Youth-Led Campaign Against Child Marriage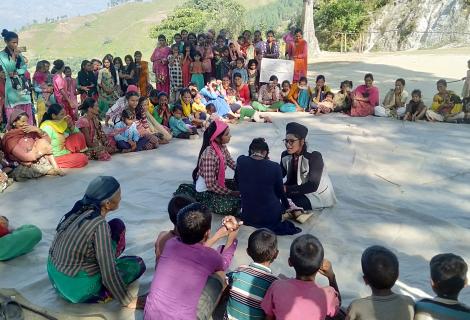 One day thirteen years old Ganga Parki of Doti was returning home from school, she was amazed to see a festive atmosphere at home. She could see many guests, laughing and dancing and sweet delicacies being prepared. At first, she was confused, but when one of the guests looked at her and said the bride is here, she was shocked. She couldn't believe that the preparation was for her wedding. She cried and told her mother that she would not marry. Her family and relatives tried to convince her to get married as they had given their word to the groom's side and preparations were made. However, Ganga stood up for her decision and eventually, her wedding was called off.
This incident which took place six years ago brought a drastic change in her daily life. Earlier Ganga only went to school daily but after the incident she joined the adolescent club of the ward. Through the club, Ganga who is now 19 and studying in grade 11 is actively involved in the campaign against child marriage. She began to raise awareness among the teenagers and parents in the village about the consequences of child marriage.
The Adolescent Club was formed to provide various training and managerial support under the Local Rights Program (LRP) of ActionAid Nepal. About 400 children, adolescents and youths are active in the campaign against child marriage through 8 adolescent clubs, 8 youth groups and 7 child clubs in Dipayal Silgadhi, Shikhar Municipality and KI Singh Rural Municipality of Doti. They preform street dramas, visit door-to-door, and interact in their communities. They meet those who have had child marriages and make them aware of its consequences through various activities.
Vimala Pariyar, a member of the adolescent club, said, "We are challenging those who favour child marriage. While walking on the road, they allege that we aren't yet married because no one is approaching us with proposal and we are trying to stop other child marriages because of anger and jealousy. This has affected us mentally." We have problems as law against child marriage could not be implemented properly in the municipality as well as the local level. These bodies are working strategically to address such challenges. The officials are now advocating for a law against child marriage at the Municipality level. Bigyan Dewal, Social Mobilizer, of Equity Development Center, EDC Doti, said, "The Dipayal Silgarhi Municipality has come up with a preliminary draft of the anti-child marriage law through our continuous advocacy. Other local levels have also pledged to legislate against child marriage."
The statistics shows that 11 child marriages were stopped from February 2019 to February 2021 in Dipayal Silgadhi Municipality, Shikhar Municipality and KI Singh Rural Municipality after the youths organized a campaign against child marriage. Adolescent clubs and youth groups have been collecting follow-up information on the status of adolescents who were married early in their wards. They provide counseling to adolescents and their parents to create a comfortable living and learning environment in the community. Dewal added that there were no one with youths when the campaign started but after 11 child marriages were stopped on the initiative of the youth, local level representatives and local leaders also started supporting them. K.I. Singh Rural Municipality has allocated NRs. 50,000 for the capacity development of such adolescents in the fiscal year 2077/078 BS (2020/21 AD).
At present, local level representatives, including the police, have joined hands with the youth. Young campaigners have started coordinating with local level representatives and the police when working in the community. On July 19, a discussion was held on how to reduce child marriage in K. I. Singh Rural Municipality of Doti with the participation of police, local level representatives, locals, adolescents, youth and child clubs. Such programs are held regularly with the participation of all concerned stakeholders.
Like Doti, the youths of Palpa are also active in the campaign against child marriage. They are actively involved in the campaign under the Youth Fellowship Leadership Development Project launched in 2019 in the Bagnaskali Rural Municipality in partnership with ActionAid Nepal and in support with the ActionAid Denmark Global Platform. While discussing on various topics against harmful social practices in the trainings conducted under the project, they became active in the campaign against the increasing child marriage in their community. They have run the campaign through various activities along with conducting door-to-door programs in collaboration and coordination with the local government. Similarly, young people also use self-invented color analysis method, and it is effective.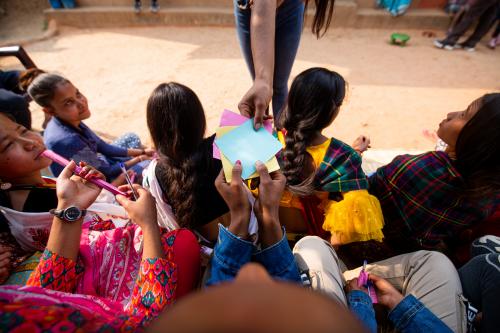 Due to the campaign, two child marriages have been stopped so far and one case against it has been registered. Leading the campaign through Yuva Sangam (Youth Hub), the youth hub members collected data about the area where child marriage is rampant. They formed a youth club, raising awareness about the legal system in the campaign against child marriage in coordination with the police. They also involved teachers in this campaign as well as health workers to show the impacts of such harmful practice. Manoj Sharma, a member of Yuva Sangam, says, "Here everyone knows that child marriage should not be done but only our speech or lecture doesn't have any effect. I think the ones who have suffered, their stories would have more impact."
Adolescents whose child marriage was stopped through the youth campaign are continuing their education. Ishira says, "I was forced to marry at an early age because of my family. Although being married, I am continuing my studies. I am also a member of an adolescent club. All my friends love and support me for my effort and teachers are also helpful. I have been motivated to be like our volunteer sisters."
Srijna Gaire, member of Yuva Sangam said, ''Despite conducting various awareness program against child marriage and making the adolescents and their parents aware, child marriage cannot be fully controlled due to its acceptance in the society." In our program, we have been able to move forward by cooperating with the local government. If they also support us, it will help us in reducing child marriage and our campaign will be effective. It will also help the local government in the process of declaring child-friendly local government."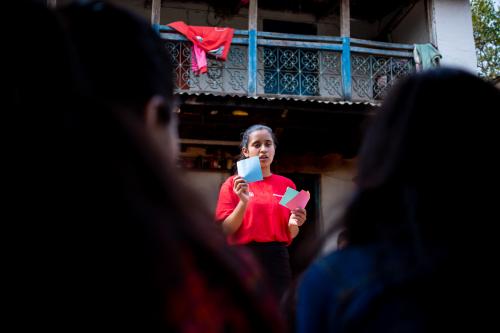 The Bagnashkali Rural Municipality has also supported the youth's campaign against child marriage. It has allocated NRs. 20,000 for the reduction of child marriage in the fiscal year 2077-078 BS (2020/21 AD). While the Rural Municipality is working by selecting two wards, the local level representatives are also happy as the youth campaign is effectively ongoing in those areas. Krishna Prasad Basyal, Chairperson, Bagnaskali Rural Municipality said, "It is the responsibility of the local level representatives to seek legal treatment in case of child marriage. But if there is a child marriage somewhere, the youths come to the Rural Municipality Office with a complaint against it, this makes our work easier.'' He added ''As the youths have done the work of reaching the concerned bodies including the legal process, we are now in a situation where the village of Bagnaskali has been very much influenced by the effort of the youths."