Nutritious food and COVID prevention kit helping pregnant and lactating women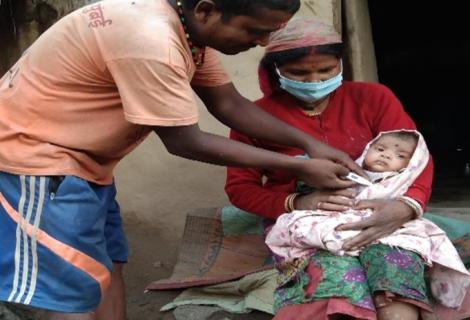 34 Years Kausillya lives in Doti with her husband and two daughters. Her family's main source of income is daily wage labour. She is also a member of a REFLECT circle.
Her husband goes to the local market for wage labour and manages daily necessities for the family with his earning. When the COVID-19 pandemic spread all over the world, Nepal government also began lockdown on March 24, 2020 to tackle the virus. The local government had also notified all to stay at home. Due to the restriction of movement, her husband lost his job.
During the lockdown, they managed some food for emergency from their savings. However, with the uncertainty for job opportunities the stress in the family increased as the  stocked food started to finish. As they did not have any alternative, they borrowed some money with neighbours in high interest as loan.
To top this all, kausillya was pregnant and she had to do regular check-up at health post. Only a few heath posts were open but with high safety and security. They did not touch people or check them properly and recommended medicines from distance. As Kausillya did not have any money nor safety gear like COVID-19 prevention kit, gloves, and hand sanitizer, she was deprived of regular check-up.
Through local rights programme, Equality Development Centre (EDC), a partner organization of AAN has been working in this area for the community.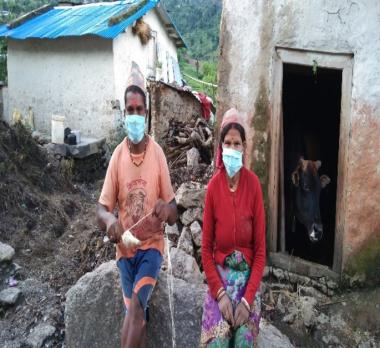 On 19th May, 2020 with the Support from ActionAid Nepal, EDC distributed COVID-19 prevention kit and nutritious food to lactating and pregnant women. Kausillya was also one of the beneficiaries. This support helped her manage nutritious meals during her pregnancy. COVID-19 prevention kit also helped her to maintain hygiene and developed her confidence in receiving services from health institutions. Kausillya safely delivered the baby.
She said, "During the lockdown health institutions didn't provide proper service. I didn't have mask or any preventive kits, so I was scared to receive the service. But now, it has become easier for me as I wear mask. The health workers do the check-up without fear and hesitation. I have also received some nutritious food. It saved us from taking additional loan. I would like to thank AAN and EDC for the support. If I hadn't received the support, it would have been difficult to manage food as well as COVID kit as we didn't have any earnings. "