Indigenous skill making women empowered and independent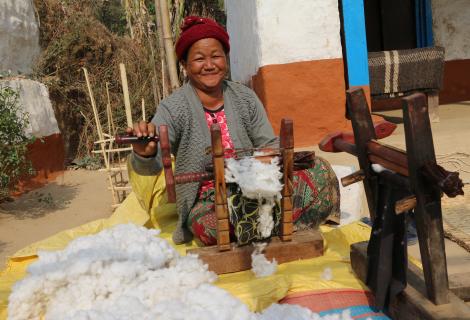 Geeta Devi, a resident of Nageswari village is one among those women who are preserving the unique and skilled method of intricate pattern making.
Nageswari village of Tehrathum District, Province 1 consists of 26 households having the majority of indigenous people. The village lies at the end of the district due to which they are often unnoticed and are deprived of information and facilities provided by the local government as well as the other organizations.
The area is quite dry and lack of irrigation facilities has led to limitation in agricultural production. This has made life difficult. Women are left with less or no opportunities to become economically independent. Women of this community possess indigenous skills of cotton weaving and making fabric out of it. Only women from older generation possess this skill and if not passed to the new generation it will be wiped out from the community.
Geeta remembers her first weaving experience and says, "During that time only a handful of women had this skill. I always saw my mother-in-law and sister-in-law busy all day weaving the cotton to make beautiful fabrics. I got inspired by them and learnt this amazing skill. Initially it was just an interest but now it has become the source of our family income."
"Our village is a dry zone, and there is shortage of water throughout the year which affects our agricultural production. We have a small piece of land, but are unable to have enough produce due to lack of proper irrigation facilities. However, cotton requires less water and grows well in dry land. With the seed support from ActionAid Nepal (AAN) and Deurali Society (AANs partner organization), we started to grow cotton in our land and it really grew well," Geeta shared. "Through the Reflect circle (empowerment group) AAN also provided training to members of the group. I trained 15 women/girls to process the cotton as well as weaving. AAN also provided required equipment for cotton weaving, which has been installed in the community building. It has made the weaving easier."
A Reflect circle was formed in coordination with the local partners. The group included one member each from 26 households. Initially, the meetings were conducted weekly to identify potential areas for economic development and cotton farming as well as weaving was found to be appropriate alternatives for livelihood. AAN supported NRs 23,930/- to procure cotton seed. The cotton farming was started in 11,192.28 sq meter land. As the production of the cotton increased, it demanded weaving equipment. Additionally, AAN supported Rs. 30,560/- to buy the required weaving equipment. Fifteen people were provided with 3 months training of processing the cotton and weaving the cotton fabric which is called "Khadi" in local language.
These weavers felt the need of a separate place for weaving as it produces a lot of dust during the cotton processing. With the support from ActionAid and community contribution a separate building has been constructed and used for Khadi production.
As a result of training and equipment support, 16 families are continuously involved in cotton farming and 4 families are engaged in producing the khadi clothes from which they earn NRs 1 lakh to 2 lakhs annually. This has also attracted the new generation and many young girls are learning this skill.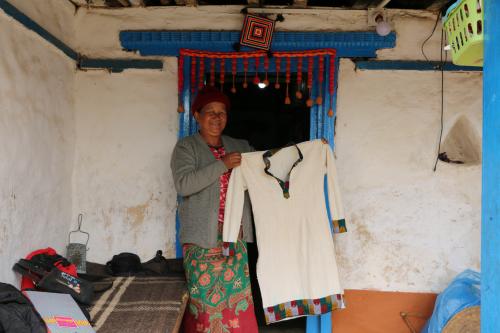 Geeta Shared, "I am glad that I am able to contribute to preserve the indigenous skills of our community and transfer them to the new generation. Through cotton farming and weaving I earn about NRs 150,000/- annually which is three times more than food crops farming. My husband and children help me in this process from growing cotton, harvesting, processing, weaving and selling. I feel this is more like a teamwork. All the villagers can make more out of this if we can draw the attention of local government in promoting the farming, develop a good marketing strategy and bring innovation in the fabrics. "
This progress has also contributed in recognition of the village throughout the district. People from the neighboring districts come and buy cotton fabrics directly from them. Having enhanced income has made the women feel confident and empowered. They can now participate in the decision-making process of their family.  "I had never imagined that we could make our living through these skills. Thankyou ActionAid for supporting us throughout and bringing hope into our lives," added Geeta.
Khadi clothes production is the tradition of Limbu and Tamang communities. Only few families are engaged in preserving and promoting cotton farming as well as weaving. Gradually the demand of Khadi clothes has been increasing but due to the less production the cost is expensive than other readymade fabrics available in the market. If the local government can promote commercial farming and weaving, a lot of employment opportunities will be created within the village and can be a great source of income for sustainable livelihood.