Kamaiya women towards dignified life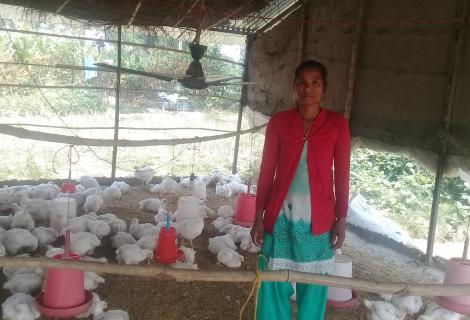 Bideshni Tharu, 29, an inhabitant of Rajapur-2 Bardiya belongs to a freed Kamaiya family. She along with her family has faced a lot of hardship in life while working as a Kamaiya in various landlord's house.
During her childhood, she worked as Kamlahari for almost 6 local landlord's, which was a very low paid work. At the age of 20, she got married in the same village. Her husband's family was poorer than her maternal house. The responsibility of the entire family was upon her husband, so both worked as Kamaiyas.
After a while, they began living separately. As her husband was also illiterate, working in a landlord's house was the main source of income for them. They did not own any piece of land for settlement. When her husband was freed as a Kamaiya, he started working as a laborer near the village. Soon, their responsibility increased as Bideshni gave birth to a baby.
With the facilitation of Kamaiya Mahila Jagaran Samaj (KMJS), a partner organization of ActionAid Nepal, she became a member of the saving credit group. The Women's Collectives in Jotpur was formed on April 6, 2013. The group includes women from freed Kamaiya settlements. The group has been continuing regular saving and credit in monthly basis and provides loan of maximum 50,000 NRs for business. AAN supported the group with two hundred thousand as revolving fund to begin some livelihood initiatives.
Since the establishment, the group members met regularly and started saving money. Similarly, they talked about their problems with each other. They also made some ground rules for their group. Bideshni gained much valuable information from the group. She borrowed Rs. 5,000 in the interest rate of 12 % per annum and invested that money in vegetable farming. 
The field staff of KMJS regularly attended group meeting and facilitated on local issues.  The women's discussed on issues like livelihood, unpaid care work burden of women, women's economic empowerment, gender-based violence and public services among others. In addition to this, Bideshni also participated in different interaction and training program. She received training on vegetable farming, value chain, UCW among others. After the training, she started vegetable farming at 1 Kattha land she took in lease. She earned some money from it which encouraged her to continue it. KMJS supported her with agricultural inputs as well as vegetable seeds and emphasized on organic vegetable farming.
Participating in the women collectives she became aware of different opportunities of income generations. She expressed interest in poultry farming and shared her idea with KMJS for support. She established a poultry house by taking loan from her saving groups and borrowed two hundred thousand rupees from the revolving fund supported by ActionAid Nepal/KMJS. She began the business with 150 chickens. After selling the first batch of chicken she earned one hundred and twenty thousand NRs. This increased her confidence, and she extended the business. In the beginning, she used to sell live chicken but later she started selling chicken meat for which she established a small shop in her